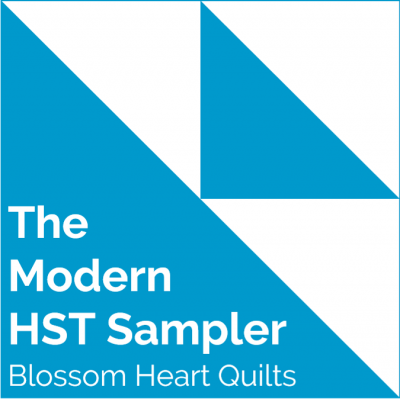 When I read about the Modern HST sampler QAL I really wanted to join in, but there were a few things holding me back.
Firstly, fabric. I would want my blocks to match and that would need new fabric or extra quantities of things I already have.
Secondly, as fun as making the blocks and joining in would be, what would I do with 24 12″ blocks? I still have the blocks from three previous QALs that need something doing with them.
And thirdly, I joined the miniature quilt group of the Quilter's Guild of the British Isles, and want to spend some time this year working on my miniature making skills.
But then I had a great idea. I could join in and make the blocks, but just in miniature! All problems solved – doesn't use as much fabric, I get to practice my miniature skills and it'll be smaller once complete!
The next task was working out how much smaller to make it. I considered 4″ squares, but that would mean dividing the original finished sizes by 3, which isn't always a nice number.
So I've settled on 3″ squares, a quarter of the originals, as all the original pieces will be multiples of a quarter inch, so there shouldn't be any horrid amounts to cut.
Alyce has said that the blocks involve HSTs from 4″ to 1.5″. That means my miniature blocks will have hsts from 1″ to 3/8″!
I'm glad we're starting with the bigger ones so I can ease into those teenie tiny ones!
Reducing the size does mean I have to do some of the maths myself, as you can't just divide the original cutting instructions by 4 (because your seam allowance doesn't change). But that's OK, I can do that and it will be good practice for my brain!
Candy is the first block and came together really easily. I managed to cut and sew it in about half an hour.
The final seam I unpicked twice in order to line up my seams to a standard I was happy with. It's a tiny 3.5 inches unfinished, but it passes the miniature test – looking at the photo you can't really tell it's not the original size 🙂
I'm linking up with Sew Cute Tuesday.