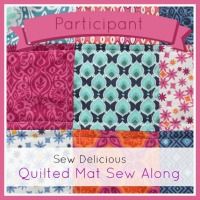 This week I took part in the quilted mat sew-along hosted by Sew Delicious. The mat was split into three tutorials, with one posted Monday, one on Wednesday and one on Friday. I really liked having it split into the three parts as it meant I could actually keep up and by the end of Friday my mat was finished.
I decided I was going to use all materials that were already in my cupboard to make this project which made it a good stashbuster. I chose to go spotty and used this selection of polka dot fat quarters that I bought some time last year. I've used bits of them for other projects but since the squares were only 5 inches each and I used just 2 of each colour, I didn't need too much of each one.
I was really pleased with my mat after the first tutorial, when all the top was sewn as my lines were nice and straight 🙂 I'd spent a long time measuring and matching corners, so was happy that my hard work had paid off. 
The second step was the quilting which was nice and easy using my walking foot. It's the first time I've quilted anything!
Finally came the binding. I made my own, using of course another colour of polka dot fabric – purple! I've also never binded anything before, and this was the bit I was most nervous about. I joined my strips (because even though the mat is small, as I was using FQs I had several strips to join) on the diagonal, and found examples online of fastening the beginning and end together the same way, making it hard to tell now it's finished where it was I began.
The back of my mat is navy polka dots. If I look at the back for too long it makes my eyes go funny like one of those optical illusions!
It's just the right size for sitting under my sewing machine. I love it because it's bright and cheerful, and I'm so pleased with how it turned out.
I even asked my little monster what he thought of Mummy's spotty mat.
His response: "Wow!"
Good answer little man. Good answer.